Endorsements: Feedback About the Celebrant Experience
"Thank you for bringing your love and light and sage wisdom to our wedding day. Your diligence and copious attention to detail was noticed by everyone. Thank you for making our day as momentous and wonderful as it was."
Bride & Groom
"We wanted to thank you so much for all of the time you spent designing the perfect wedding ceremony for us. When we first started planning, we had no idea that we would end up with such a personalized, beautiful ceremony. You are so kind, fun-loving and full of life and we are sure that your happy spirit will come across on our special day."
Bride & Groom (Connie & Chris)
"We wanted to thank you again for helping to make our wedding so very special. All the time and care was truly appreciated. Everyone loved the ceremony."
Couple (Rob & Ellen)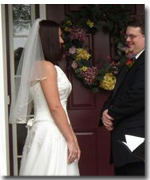 "We wanted to thank you from the bottom of our hearts for your wonderful ceremony and work for our wedding. You were so positive and thorough for the entire process and it made us feel so secure and comfortable during the ceremony. Coming from miles away we felt in such great care. The ceremony offered just what we wanted; it was very creative and traditional which we loved. The extra work with the interpreters for the deaf was so appreciated. Thanks for working with our friends and family so well and making our special day a most memorable one."
Couple (Jane & Kevin) - renewal of vows
"Words could never express our gratitude for all the magnificence that you contributed to our daughter's naming ceremony. We deeply appreciate the hard work, creativity, commitment and LOVE that you demonstrated to us and our entire family in helping to make the day truly special!"
Parents (The Fox Family) - Naming ceremony for their adopted child
Why are we having a Celebrant wedding? "Your organization seems to be there for our needs. Others tended to advise us in how they thought we should have our ceremony, which felt as though they were doing it their way with very little input from us. After meeting with you, we decided right then and there that [a] Celebrant was for us. You seem to cater more to our wants and are willing to coordinate our ideas for a ceremony. Your suggestions were also much along the lines of what we already had in mind, therefore, you were the only choice for us."
Groom
"The Celebrant Foundation honored our family and our father and we appreciate it so very much. Thank you for all of your time and care."
Daughters, regarding their father's funeral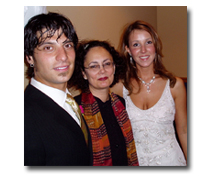 "We are so happy to have you working with us on our ceremony. I have to admit, this isn't quite what I had envisioned in my mind growing up. I guess I just figured it would be a priest and with [my fiancé] being a different religion, I had figured we would have a rabbi and a priest. Now that we have found you - I'm REALLY excited! I didn't expect to be crafting our own ceremony. We feel really lucky that we came across you."
Bride (Susan)
I wanted to let you know that we decided you would be the perfect person to marry us. We felt so comfortable and confident with you. I know you will do a fantastic service."
Bride (Liz)
"We just wanted to say "thank you" for helping us celebrate our marriage!! We could not have found a better, more caring person, to take on this very important role. We thank you from the bottom of our hearts."
Couple (Shannon & Gary)
"You guys were absolutely AMAZING!!! We cannot thank you enough for everything you brought to the table. The ceremonies were unforgettable. Thank you! Thank you! Thank you!"
The American Cancer Association/Relay for Life, (Jackie)
"Thanks so much for helping us create this special event especially with the Survivor and Luminary Ceremonies . Wow! Celebrants Rock!"
American Cancer Society Relay for Life Event, (Lori)
"So many people have said that ours was the BEST wedding!! Thanks to you."
Couple (Lynn & Steve)
"EVERYONE commented on how personal and really different our ceremony was. It was just so amazing and perfect."
Couple (Lauren & Dave)
"Thanks for making our ceremony so lovely. We could not have done it without your help and spirit!"
Jay & Stephan's Commitment ceremony
"Thank you for all your wonderful effort in our ceremony. I still get people telling us how much they enjoy it, how heartfelt and honest the presentation was. You're the best!!!!"
Couple Commitment ceremony
"Thanks for all your hard work in preparing for the event. Your involvement helped make it such a success!"
Organization (Susan) Civic Event
"It has been at least 3 weeks since you so joyously join sentenced Joe and me to a life of love, peace, striving and success. You started something that gets bigger every day. Joe and I love each other so very much. You seem to have this special gift. So many people have asked me if we were freinds because the ceremony that you wrote seemed to reflect Joe and me to a "T". Kim, we believe a friendship has been born and that we can keep in touch. I (we) thank you from the bottom of our hearts."
Couple to Celebrant,Kim Kirkley about their Marriage Ceremony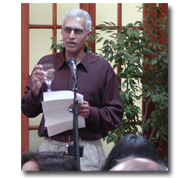 "It was a great ceremony for Kal! The idea is great and you are the one who made the idea work. And thanks for the opportunity for me and the guys to revisit that less illuminating period in a different, possitive light. The honor is all ours!"
Fellow employees about the Downsizing ceremony for their fellow colleague
Funeral & Memorial Ceremonies, family letters:
Your questions and support helped me dig down to a place where I could tap into my underlying experience of my mom and find a way to articulate it. Then you were able to extract the essence of my stories and put them together in an order and with readings that drew a clear and meaningful picture. You really helped me first find and then manage to express what I wanted and needed to find and express! You enabled this funeral to become a critical part of my own mourning process and not simply an exhausting task that I performed for others while ignoring my own emotional needs. Many of the other mourners also recognized and appreciated this quality in the ceremony you developed for us. I think it was your guidance that opened the way for so many people to feel comfortable enough to speak. Many of the guests expressed that it was a beautiful ceremony, and several even mentioned that they felt this was the most "honest" and meaningful funeral ceremony that they had ever attended. A num ber of my friends asked me for your contact information so that they could have it available if the need arises in the future. Sincerely, Julian
Dear Charlotte:
I called you the last week in June to ask for your help in the organization of a memorial service in Miami on behalf of my recently deceased mother in law, Lala Portes. I greatly enjoyed our telephone conversation at the end of which you promised to call Ms. Peggy M. Lewis, a celebrant trained by your organization. Within the hour, I had heard from Peggy. With her help, I was immediately able to secure a location for the ceremony, the church of St. Bernard de Clairvaux at the Ancient Spanish Monastery in North Miami Beach, the area where Lala lived for nearly 20 years. In the subsequent days, Peggy was enormously helpful in the design of the service. The Portes family is blessed with many creative individuals and Peggy unobtrusively but wisely channeled every idea into what turned out to be an extraordinary event. I am very grateful to Peggy and to the Celebrant Foundation for transforming a difficult time for my family into a glorious moment of unity and joy.
Rest assured that I will continue to sing the praises of your organization and to recommend it to friends and colleagues.
I wish you and yours continued success in the future.
Sincerely,
Patricia Fernandez-Kelly
Princeton University
Department of Sociology and
Office of Population Research